The Samsung Galaxy S7 and S7 Edge are the latest models in Samsung's flagship line. Bigger batteries, better cameras, and waterproofing are the highlights of Samsung's flagship this year.

Some of the key features are:
A 12 megapixel camera which it claims lets more light in allowing for a picture that is 95 percent brighter than the Galaxy S6 as well a faster autofocus
An "always-on display" where a part of the screen remains constantly on but at a low power level, draining less battery power
A bigger battery compared with the Galaxy S6 which allows for 13 to 15 hours of high-definition video playback
5.5 inch screen on the S7 Edge and 5.1 inch display on the S7
A faster processor and better graphics card specifically to enhance mobile gaming
Expandable memory
Dust and water resistant
One of the main highlights of Galaxy S7 event was also Mark Zuckerberg, who was a special guest for this launch.
Samsung's Gear VR is now free, if you preorder a Galaxy S7 or Edge. Samsung keeps lowering the price of virtual reality. Its original Gear VR accessory, which turned its Galaxy phones into VR headsets, cost $150. Then the 2015 Gear VR dropped to just $99. And now, for a limited time, you can that same Gear VR unit for free if you preorder one of Samsung's new phones, the Galaxy S7 or Galaxy S7 Edge.
To be clear, there isn't a new Gear VR headset for Samsung's latest phones. They work with the version of Gear VR that launched last year, which was already compatible with the Galaxy S6, S6 Edge, Note 5 and S6 Edge+ phones. (That's the same Gear VR that garnered a 4-star rating from CNET, too.) The idea is, finally, some form of consistency and compatibility, so anyone with an existing Gear who upgrades to an S7 will be good to go.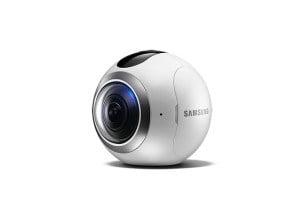 Samsung is entering the nascent 360-degree imaging market with a new camera called the Gear 360. The camera was announced alongside the reveal of the Galaxy S7 and S7 Edge this evening at the company's Mobile World Congress event in Barcelona, and it will be available in the second quarter of this year.
The Gear 360 is a tiny, double-lensed sphere of a camera that's supposed to make shooting and sharing 360-degree photos and videos easy and approachable. (Let's just say it — it looks like an eyeball.) The bottom of the camera is flat, so it can rest on most surfaces, and it also features a standard tripod mount. The Gear 360 is mostly featureless on the outside, with just menu, record, and power buttons and a tiny monochrome PMOLED screen dotting the white plastic finish. There's also a slot for the microSD card (up to 128GB supported) and a swappable battery, both of which are hidden behind a small door. The camera is only splash-proof and dust resistant, though, so don't expect it to take a beating.